Timberline Events LLC is a Colorado based race timing and management company offering a full range of sport timing services for running, snowshoe, and Nordic ski races, cycling, and multi-sport events.
FINISH LINE TIMING

Our Finish Line Timing philosophy is Your race's success is our success. Ease of registration, accurate timing, quick access to the results, and the appearance of a finish line greatly reflect on the quality and integrity of a race. Our goal is to eliminate your stress of this aspect of your road or trail running race, bike race, triathlon, Nordic or snowshoe event, mud run, or cross country meet. We will provide great customer service to both you and your race participants.
We offer a choice of timing methods: the tried and true traditional tag-pull method for smaller races, and the state of the art MyLaps BibTag disposable chip timing system, the timing system used by the Boston, Chicago, and Houston Marathons.

OVERALLRACERESULTS.COM
OverallRaceResults.com is a subscription based website for race timers that provides live results along with many other services for a race's participants. Each timing company has their own dedicated sub-domain so a timer's race results are not sharing a site with a bunch of other races.
ROADS LESS TRAVELED RELAY RACE SERIES
"...it was the most fun I've ever had while running."
John Meyer, Denver Post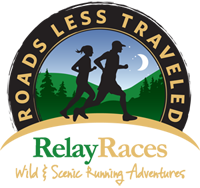 Timberline Events first started organizing running relay races. A long distance team relay is a type of one to two day adventure race anyone can do. Teams of runners rotate, taking turns running a route between 50 and 200 miles. Our Roads Less Travel Relay Races are designed to be scenic and rural, highlighting the beauty and character of the states they are located in. Registration is limited in size to enable all teams to have a premier running experience.
"Our team just ran the Wild West relay for the second time - our first one was four years ago. Four years ago we couldn't appreciate how well organized this race was, our first one hadn't taught us the lessons of a poorly organized relay yet. The past few years we have done other relays in Utah, Wyoming, and Colorado. Yours by far has the absolute best organization, setup, and volunteer base that we have ever seen. I know you pull your volunteers from a third-party organization, but you are ultimately the one responsible for making sure they are prepared to do their job and they clearly are. They are knowledgeable, helpful, friendly, and chipper which is all a team can ask for at 4am when they are rolling into an exchange point on zero sleep and miles and miles down in 90+ degree weather. Additionally, your leg maps, handbooks, and many many emails go above and beyond. I am sure your job is a difficult and a stressful one and we all just wanted you to know how much we appreciate your obvious passion for your job. We look forward to our next RLT Relay!" AB, Casper WY
After nineteen years, the Roads Less Traveled Relays series was sold to run.Windsor who will carry on the tradition.
VOLUNTEERS WITH A PURPOSE, INC.

Volunteers With A Purpose, Inc is a non-profit 501(c)(3) organization whose mission is to match non-profit organizations with fund-raising opportunities with recreational events. VWAP was created by Timberline Events to give back to the communities our relay races go through by involving local non-profit organizations to act as race marshals. Over $400,000 was been raised and distributed to the participating non-profit organizations in Colorado, Vermont, Oregon, and Iowa.