ROADS LESS TRAVELED RELAYS
WILD WEST RELAY 2004 - 2022
In 2004, Timberline Events created their first 200-mile overnight relay race, the Wild West Relay from Fort Collins to Steamboat Springs in Colorado. The relay was held the first or second Friday and Saturday in August. The relay ran for nineteen years and was then sold in 2023 to run.Colorado Relays who is now staging the relay.
GREEN MOUNTAIN RELAY 2006 - 2012
In 2006, Timberline Events began staging their second 200-mile overnight relay race, the Green Mountain Relay from Jeffersonville to Bennington in Vermont. The GMR was held the third Friday and Saturday each June from 2006 through 2012. The route crossed over five covered bridges.
CIVIL WAR RELAY 2009 - 2019
The Civil War Relay was revived staring in 2009. Thew CWR was a one-day 50-mile sprint relay and alternated the direction run each year, from Albany to Eugene, or Eugent to Albany, depending on how was hosting the annual football game between Oregon State University and the University of Oregon. We managed the relay through 2022 when it was sold to Randi Escobedo, and Oregon based race director. Due to the retirement of the term Civil War for the football game, the relay was renamed the Oregon Rivalry Relay.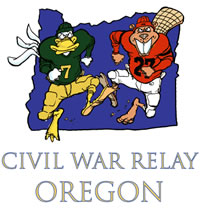 FLAMING FOLIAGE RELAY 2013 - 2022
Timberline Events started the Flaming Foliage Relay in 2013. The route was based on the original Colorado Outward Bound Relay from Idaho Springs to Glenwood Springs in Colorado that was started in 1998. Outward Bound sold the relay to another company somewhere around 2010 who changed the route, eliminating the single track trail legs between Georgetown and Breckenridge. We revived the original route from Idaho Springs to Copper Mountain, running over Guenella Pass and Georgia Pass, then changed the second half of the route so runners crossed the third 11,000 foot pass, Fremont Pass, continuing through Leadville and finishing in Buena Vista.
The relay was held the first Friday and Saturday after Labor Day in September. In 2023, the Flaming Foliage Relay was also sold to run.Colorado Relays.